Solo
Farida Amadou (b.1989) is a self taught bass player based in Liège, Belgium. The electric bass is her main instrument since 2011. In 2013, she has started to play a lot of different musical genres, including blues, jazz and hip-hop. The same year, she had a big interest on improvised music when she met L'Oeil Kollectif members and started to play with percusionnist/ drummer Tom Malmendier. Nystagmus duo was born in late 2014.
Since 2014, she has performed with many musicians all over Europe: Linda Sharrock, Mario Rechtern, Balasz Pandi, Karl H. Bjora, Jasper Stadhouders, Onno Govaert, Eve Risser, Morgane Carnet, Philippe Lemoine, Timothée Quost, Julien Desprez, Olivier Benoit, Anil Eraslan, Mette Rasmussen, Basile Naudet, Chris Pitsiokos, Alex Ward, Thursthon Moore, etc.
In February 2018 Farida Amadou has joined the punk/noise band 'COCAINE PISS'. A few months later, Cocaine Piss recorded their album « Passionate and Tragic » at Electrical Audio Studios in Chicago, with Steve Albini. In May 2018, she has started a new duo project with the drummer based in London, Steve Noble, including trio collaborations with Alex Ward on clarinet, Chris Pitsiokos on saxophone, ex Sonic Youth's guitarist Thurston Moore on guitar and recently with the free jazz pioneer Peter Brötzmann.
Farida Amadou was also part of the OORSTOF series (curated by SoundInMotion – Antwerp) project with Ken Vandermark and his band MARKER. For the second part on the year 2019, Farida Amadou has focused on her solo performance, and experimented different collaboration simultaneously. She started playing duo with Floris Vanhoof (modular synth), another duo with Pavel Tchikov (guitar). Amadou and Tchikov released a tape called 'Mal de terre' on the Chicago based label trouble in Minds records on November 2021. Later in 2021, commissioned by Europalia, Farida created a sound installation with the support of Overtoon, QO2 and ateliers claus. 2022 will be a year of touring and new album making.
Duo with Julien Desprez
Belgian-French bass & guitar virtuosos Farida Amadou & Julien Desprez do not just speak the same mother tongue, they also share the language of creative music. At the same time, their versatile artistic backgrounds couldn't be more different, reaching from hip hop & punk to avant-garde jazz & improvised music. However, once on stage, they perform as if they'd be a duo for years. After their first spontaneous encounter in 2019, it quickly became clear that this high quality noise outfit has to be continued. Et voilà! Get ready for a hyper-dynamic overkill for nine strings and a hotplate of effect pedals, distilled to a beautiful wall of sound, somewhere between industrial, free form improvisation & drone. Enjoy the sonic experience live when Amadou's crunchy bass lines and pulsing noise patterns fuse with the stochastically shrieking fireworks of the guitar to a sheer listening pleasure. Amadou/Desprez are not your everyday-freejazzers, they play music for the 21st century. - text by Louis Rastig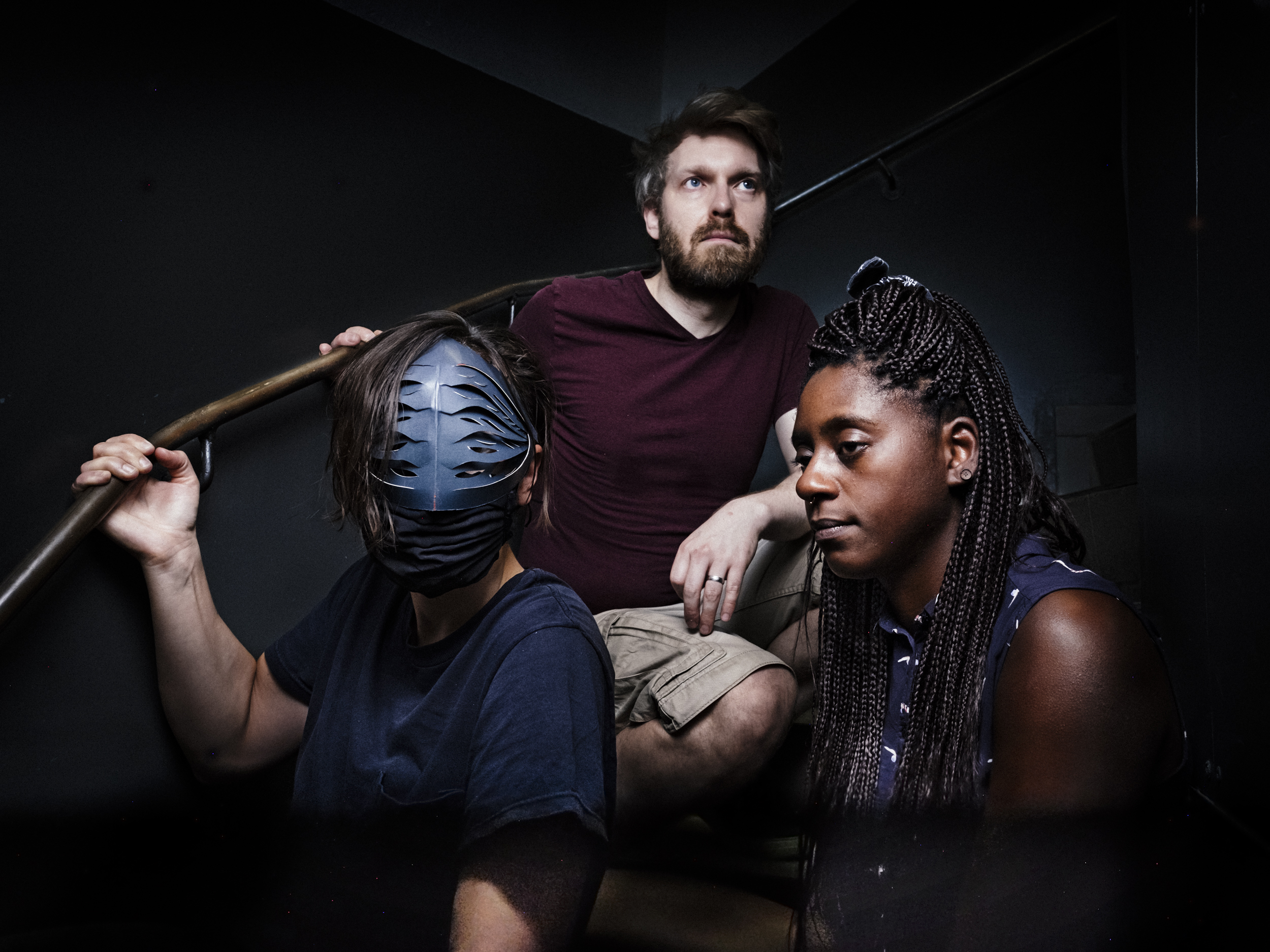 Trio with Kosack/Narvesen
Farida Amadou, Liz Kosack and Dag Magnus Narvesen came together for a gig in Berlin, organised by Pattern Dissection in February 2020, at which they shared the stage for the first time — resulting in a sweaty winter night and a cheering, overwhelmed audience. Their idiosyncratic line-up of electric bass, synthesizer and drums is foundation to spectacular group improvisation, pushing through seething soundscapes and incredibly dynamic interplay to agile free jazz attacks of astonishing intensity.
They met again six months later for a day in the studio to record their debut album and the inaugural release on the Pattern Dissection record label.
Dag Magnus's down-tuned drum set builds the ground for relentless legwork and hectic wrestling, shaking the floor when confronted with Farida's high string slaps on the bass guitar, which they occasionally swap for droning vibrations and scorching fingerpicking, neither shying away from a heavy riff nor stripped back momentum. Liz's synth is an idiosyncratic creature of its own, birthing sounds rarely graspable but utterly fascinating, swift in taking turns and always one step ahead of any expectation.
Before meeting as a band the three artists cut their teeth in numerous projects and constellations as well as finding a highly personal voice in playing their respective instrument: By challenging possibilities and limits and navigating to unknown territory, CIRCUIT will keep you on the edge of your seat.